Ask the experts – creating content on the cheap
If I had a pound for every time I was told to create great content, I'd have enough budget to create great content. However; creating unique, engaging and interesting content that can drive links really does not need to be expensive either in terms of budget or time. I asked a few experts for their tips on how to create excellent content with limited resources:
It's a misunderstanding that great engaging content needs to be expensive, with all kinds of bells and whistles and interactive immersive 4D experiences and sirens and alarmbells and grand parades with confetti made from the shredded tears of social media marketers who agonised over the content for months.
I found that my most engaging content is content that rubs some people the wrong way.
It's written mostly for other developers, but also intended for them to show to their managers and colleagues, which are not likely to take it very well. It's honest, from the heart, and with data to back up the premise.
And all it took was maybe an hour or two to collate the data and write it up.
The developer who wrote it loves to rub my face in the success of his post, and recently tweeted (
https://twitter.com/derekjohnson/status/562754194667765761/photo/1
) a Google Analytics screenshot showing it had gathered over 50k views. It's also been popular on Hacker News and Reddit, and sparked more than a few debates on the topic.
Cheap? Tick.
Engaging? Tick.
For
CR 25
, a content marketing campaign where my parents' IT recruitment agency and I published 25 blog posts in January 2015 to celebrate their 25th year in business, we made use of a fair few decent (and free!) WordPress plugins – as well as other free online tools – where there were instances of paid alternatives.
Before it launched, we used Coming Soon Page, which I think has a freemium element to it (you can pay for added features and settings), but the free version worked just great for us.
We published a timeline post, which made use of Knight Lab TimelineJS – you use short-code in the post that draws from a special Google Spreadsheet that you have to fill out in a particular way (you can see it in action here).
For an events post that we published, we used Google Calendar Events to embed a Google Calendar, which looked great and meant that people could grab the event listings and add them to their own Google Calendars.
For one of the posts, we published an infographic… We tried doing it ourselves first (using tools such as Canva), but as I'm not a designer, we eventually admitted defeat and hired a local infographic designer to do it for us instead, which saved time and undoubtedly would've come out looking a lot better. I actually had a bad experience with Canva in the process…
We used SlickQuiz to create a multiple-choice quiz, as part of a competition.
For one of the posts, I'd hoped to live-blog a local blogging event (how meta!) but it didn't happen in the end. I had my eye on using 24liveblog, which looked awesome (and much better than some paid alternatives)…
Rather than producing all of the content ourselves, we relied on guest bloggers and crowdsourced content to produce a good chunk of the content. We only needed an outsourced copywriter to produce 4 posts for us, and they were intended as back-ups (we ended up using 3 of them). With one of the guest bloggers, I actually 'haggled' as well: she's doing well blogging-wise (she's been featured on Mail Online, the Guardian and other big sites), so nowadays she charges for guest posts, so I asked if we could try a different angle – asking if she could choose her top 5 jobseeking advice videos – and she happily obliged, so we were still able to include her but were able to do so for free.
We even used a free WordPress theme (Dazzling)… We planned to buy a cheap theme, but this theme did everyone we wanted and we customised it enough to look fairly different from the default colour/layout scheme, so it did the job.
Lastly – and I'm going to Hell for saying this – we used Fiverr for the special campaign 'cake' logo. Total cost: $25 (c. £15 at the time). Local designers were quoting £200+ but we knew exactly what we wanted, so we went with Fiverr and we were delighted with the result.
We only paid for a few things: the domain, the cake logo, the copywriter (4 posts), the press release and PR outreach, the infographic, a few months of Akismet's Business subscription (we plan to close the comments in a few months' time) and 3 £25 iTunes vouchers (for the quiz competition). In total I think all of that came to just over £500.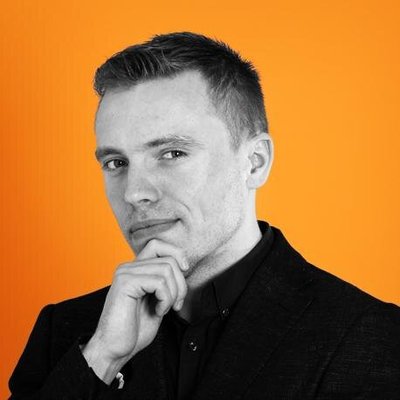 Krystian Szastok, Digital Marketing Manager at Rocket Mill
A few things I recommend for creating blog content on the cheap:
– repurpose old content or change the format of it
– revisit old content that isn't relevant anymore and update it with new information to make it relevant again
– run expert Q&A posts with many centributors. This is very cheap and if the questions are on a popular topic the post can be very popular.
 Geoff Kennedy, Team Leader at Yard Digital
Spend time on pulling together a decent concept and clear brief. Take a step back and consider who the audience is, and if your content is something they'll genuinely be interested in. It's all well producing a great piece of content, but if it doesn't work as part of the wider campaign, it's money down the drain. Be sure not to confuse 'cheap' with good value.
Solid, up-to-date data is surprisingly hard to come by (it is out there, but finding it can be a nightmare). Use this to your advantage… Explore what data you (or your client) owns, how it could be interpreted, and who that would be of interest to.
Consider not only producing your own content, but also making the raw data available to others (properly cited of course).
Gareth James, Freelance SEO at SEO Doctor
Here's a couple a grey/black ideas for acquiring cheap/free content. Obviously I don't use such tactics, but it's an option if you are skint.
1) Here's the type of Newsletter email I like to receive, this came through end of last year.
"So I am writing to you to give you a heads up: on December 5th 2014, we will be closing the old Matador community profiles and shutting down all of the blogs. If you have content on these sections of the site that you want to save, you have until 12/5 to migrate or back it up somewhere else"
Most people will not back up their content before it expires, so just grab it and reuse.
2) Rip off other peoples infographics. You have a few options available, but here's a sweet one. Go to a typical crowdsourcing design site and look and projects that have been completed. Some will show you the winner along with all the other entries that lost. http://www.clipular.com/c/4864833478459392.png?k=x3O6wbAdHcTEmFgOfB0X07hoAn0
These infographics that lost can actually be downloaded. Simply upload to a free image editing tool and change the branding and you have a free infographic. Pop over to Odesk and pay $3 for a 300 word intro and you have a great unique post.
Ross Tavendale, Search Director at IMD
For me Stipso (living infographic creator from £9 p/m) is a massive breakthrough in quick, easy affordable content creation.
The tool isn't only an infographic creator- it's a data collection tool that happens to produce a real time infographics as it is interacted with. It also let's me naturally capture users email by asking if they want me to email them the final results of the infographic.
I like the tool because it gives me 3 things:
massively increased engagement with my content, leading to more social shares and more links created to the content.
data from a relevant audience that can be used as a follow up piece of content or a press release
natural email capture for later marketing campaigns
Example
We recently created this infographic for Reserve Apartments (
http://www.reserveapartments.co.uk/blog/glasgow-vs-edinburgh
). It is already the best performing piece of content on the website and it has given us lots of interesting data points that make for very interesting click bait titles. For example, how about "James Bond beat Hagrid in a head to head" or "80% of Scottish People would rather Listen to Lulu than the Bay City Rollers".
This gives us lots of new angles to create more content and reach out to new audiences and ultimately drive more organic and referral traffic to the site.
 Andrew Isidoro, SEO Manager at GoCompare
Content is always seen as the costly part of a campaign's expenditure but it doesn't have to be. There are a number of ways you can create content at a relatively low cost that can still add value to your users:
There are a whole host of ways to use old content to generate more value for your users. You could turn a numbered summary into individual posts, use old content in different formats like video or audio, or even just refresh old time-bound content.
Chances are your PR team / agency will be sitting on a wide range of old surveys and data that they didn't use for releases. There are always stories to be found here, often with very little work.
There are a whole load of content you can create just by curating content in a particular way. For instance, last season (while trying to learn Javascript) I built a quick mashup tool in an afternoon to show what the Premier League would look like if it was ranked by twitter followers. Simple content yet it got links from a host of places including the Metro.
One issue I have with cheap content, is that while it is often easy to create, it is usually easy to replicate. At Gocompare.com, we've found that content that solves a problem for many people is worth the initial investment. We put budget behind content that we know can help our customers over and over again. Take for example our income tax calculator; we created this last year at a fairly large cost but as it will continue to help customers for years to come (with a small amount of maintenance) this becomes of value to both us and our users. Sometimes expensive content is "cheap" in the long run.
---
So there we have it! 7 expert's advice on creating content cheaply and to finish off, here's my tip for creating content quickly and for free:
Ask some wonderful industry experts to spend 5 minutes giving their advice on a topic they enjoy talking about. They get a couple of links and some exposure and you're left with a 1884 word blog post that you just had to copy and paste. 😉
About the author